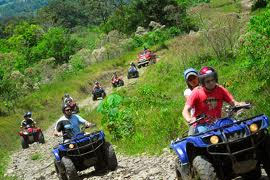 There's no rule book that says a bachelor party must consist of booze and clubbing, so it may be time to break away from the norm and let the bachelor experience something that is truly once in a lifetime. If you can convince the man-of-the-hour to forego the pleasures of stiff drinks and hard bodies for just one day, then you should be able to convince him to take a trip to the tropical country of Costa Rica and on an adrenaline filled tour the locations lush environments.
Lush, tropical forestry; stunning displays of exotic wildlife in its natural habitat; breathtaking waterfalls; dangerously beautiful gorges. If there were any way to put the stunning displays found inCosta Ricainto words, those would be the best. For an up close and personal view of everything this tropical country has to offer, you can treat the bachelor to a four hour ATV tour that spans only the most breathtaking views ofCosta Rica.
Riding on the back of an ATV is an experience all on its own, but when you consider the terrain you'll be touring, the tour gets that much better. From muddied dirt roads that break through plains of greenery to lush jungles that house the countries most exotic sights, these ATV tours offer the best of what the country has to offer.
The tour starts you off in the center of town where you can stock up on much needed bottles of water and small, portable snacks. Your tour will then head down to the sandy beaches that will eventually lead up to the tropical jungles. Make sure to pack your camera, as what you experience on this tour will unlikely appear in your life again – unless, of course, you take the tour again.
A quick pit stop at a local bar will let you refuel and refresh before continuing on to the next leg of the journey. Through another stretch of flourishing rainforest whose shade will help cool you off, your party will make a final stop at a most welcoming site. The vibrant greenery opens up to a running waterfall, complete with an overly refreshing natural pool. Let the inner daredevil in you take over as you climb the waterfall's surrounding rock face to get the best view of the surrounding area. Have a fellow member of your tour snap a few pictures of you for proof before taking a leap of faith into the watering hole below.
You could let the bachelor hang out in a stuffy club and knock back overpriced liquor, or you could show him what a real party should be like. Let his adrenaline pump as the wind and splatters of mud and Earth splash against his skin; let him enjoy the last single-life experience and tour throughCosta Ricaon the back of an ATV.