Jaco Beach Bachelor Party Packages Costa Rica
WARNING: Chances are you will come back a changed man. We cannot take responsibility for that but you can… Blame it on us.
Costa Rica Jaco Beach is the perfect place to celebrate bachelor parties. marriages, divorces, heart breaks, failures, victories, mid-life crises (man-o-pause), or just get away from the never ending daily routine. Between the breathtaking picture perfect beaches and the thriving nightlife, you are assured an unforgettable experience.
We do all of the work for your Costa Rica bachelor party planning from the minute you land until the minute you depart from Jaco Beach. Your only concern should be to have the time of your life which may include some "work" but the kind we all wish we got paid for.
Package Deals
Jaco Bachelor Party Package Deals
CASTLE PACKAGES
What You Get from Our VIP Packages
We provide professional, comfortable, and top of the line private transportation: private chartered helicopters, private chartered planes, private limousines, private taxis, private vans, and private party buses.
We have a huge variety of vacation rentals. We have top priority access to all types of real estate ranging from awesome hotel rates, awesome condo rates, beachfront mansions or a secluded mansion in Los Suenos.
VIP access to the hottest night clubs, restaurants, bars, and special events in Jaco Beach.
FREE Complimentary Cuban Cigars for Elite Access Packages.
Customer Service 24 hours a day. Any problems? Call us 24/7 or email us.
All you need to do is get here. Once you're here we take care of the details and planning all you have to do is the partying. It's important to have in mind how many people are going and what your group's budget is.
Once you have the budget ironed out we'll lay out the red carpet for your options. You have the time of your life we lay the blueprint for you.
Our only requirement for you is that you arrive READY TO PARTY.
Choose from our list of Costa Rica Tours and if anything isn't listed that you have in mind we'll make it happen for you. We've been at this long enough to do whatever it takes to make all of our customers happy.
Ok you are planning a bad-ass international party vacation; let's break it down so you can get after it.
The Top Three Considerations for Ultimate Crazy-Party Vacation:
The first point is obviously the destination. So here is why Jaco Beach, Costa Rica in a nut shell;
Proximity - about five hours from most USA and Canadian hubs, fast, easy and low cost flights.
It's Costa Rica – off the chain beaches, tropical jungle, volcanos, casinos, private party villas, fully developed vacation service industry, resorts, sport fishing, crazy adventure tours, and always scores as a top rated international party destination. If you coming to Costa Rica you are coming to party!
We are here - Bachelor Party Bay Costa Rica is the longest running vacation planning company, as a full service specialty planning and booking agency. Group vacations especially party vacations are what we do - from Limo Bus pick up at the airport, vacation rentals with chef and maid services, adventure tours, strip club tours, so all the fun in the sun you can handle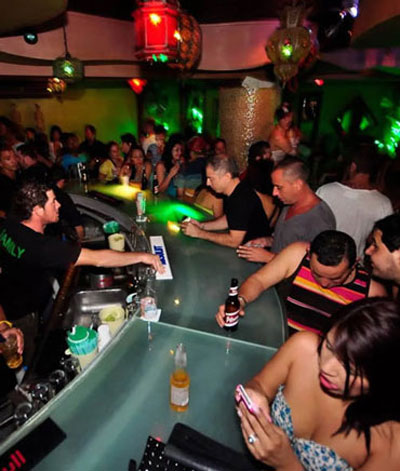 The second primary consideration in the Vacation Rental;
The vacation rental will be your biggest and most important single expense for your part vacation experience. The vacation rental is the home-base; it has to be the right location, the right price with the highest value as well as the right type.
Some rental villas are on the beach, some are a few clicks up in the jungle to ensure maximum privacy for crazy all-night partying, some are in residential resorts and some are gated type communities.
The main problem in the vacation rental choice is who you are dealing with when there are issues. Dealing with a real estate agent is a middle man who won't handle anything else after you have the key. The owner often (90% the time) is not in-country and not on-demand.
How do we solve this important issue? For our 60 some-odd vacation rentals which are specifically designed for the party vacation industry we are the Property Managers for your villa. This mean we take care of everything.
The third primary consideration is the Fun Factor;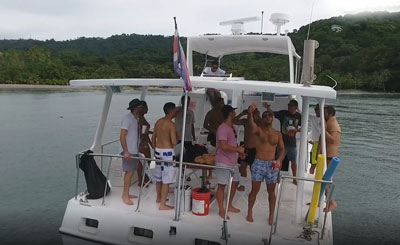 Jaco Beach is first and foremost a party beach town. It is the Central Pacific's tourism and commercial hub. With so many choices for fun we narrowed it down to The Top 7:
1. The Pool Party – you have a kick-ass private party villa with a killer pool, take full advantage of it. Go 'all in' with a DJ, sound and lights system, BBQ, bar, pool girls, hostess, chef, you name it.
2. Night Club Run – Hit the strip, Jaco Beach is hands down the number 1 party beach town in Costa Rica; casinos, man caves, strip clubs, a full gambit of bar restaurants, dance clubs, beach cantinas, tiki-hut pool bars and plenty of friendly locals ready to have fun with.
3. Sport Fishing Charter – marlin, sailfish, dorado, yellowfin tuna, rooster, snapper, grouper, etc. From Jaco you can launch from Los Suenos Marina and Manuel Antonio.
4. Private Party Boat - Tour the coast along the Central Pacific on a fully loaded, 50' Private Party Boat, find a private paradise cove, enjoy the warm waters, maybe a little fishing or snorkeling , bar, food, state-rooms, A/C. Brings some tunes, invite a few friends… a great day!
5. ATV Jungle Tour - One of the highest rated tours in Costa Rica are the ATV jungle and waterfall adventure trails.
6. Zip Line Canopy – High speed adrenaline run down the mountain.
7. White Water Rafting - Costa Rica is widely considered to be one of the best places in the world to visit for whitewater rafting
What about package deals for a party vacation?
Whether you are coming to Costa Rica for a full-blown bachelor party trip or just coming down to cut lose with a few of your buddies and doing a little sport fishing, you will find a lot of options available.
A common mistake is to think that a package deal is the best idea. This may be true in some cases, such as inclusive resort deals, but for these deals to work you need to spend 90% of your time at the resort.
The main issue with resort packages is that you are locked into their entertainment venues, bars and restaurants. You end up paying a lot of money and get locked into their idea of fun, as well as their rules and regulations. With some resort type packages you will be surprised to discover that you can't bring back lady company, or that your invited 'friends' have to be off site by a certain time in the evening.
Let's face it you are coming to an international party vacation destination, which means off-the-chain fun with as much freedom as possible. Package deals that are designed around your own private, secure vacation rental party villa and provide you with maximum freedom.
Other aspects of package deals to consider are the adventure tour options. You don't want these limited to only a few options, and definitely locked into certain times that you have to abide by or miss out on. Flexibility is what you want. If you and your crew ended up coming back to your vacation rental last night with company for a midnight pool party (which is not highly probable, but highly recommended), a 7 AM wake up call to go white-water rafting my not be possible. You will want the flexibility to change it up to another time or another tour type altogether if need be.
To concierge or not to concierge?
Having help on call for anything is a good idea. You don't want to worry about restocking the beer fridge, arranging atransport or picking up some extra steaks for BBQ in the middle of a party. It's all the little things that eat into your fun-time; you will want these trivialities handled.
Whether it's an impromptu taxi service to run the posse over to the next beach town or to get a bar and table of snacks set up for an afternoon pool party, a concierge is on call. Vacation package deals often include this service but make sure to confirm this detail with your party planning agency.
Give us a shout for more information on customizing your trip and your party. While some companies only offer a few generic packages, Bachelor Party Bay Costa Rica proudly give our clients the best-in-class customized service they desire and deserve.
Package your party vacation up and save a boat load of money…