Costa Rica White Water Rafting Tour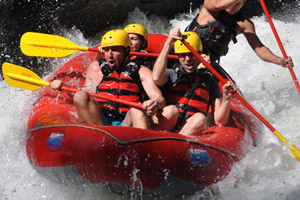 Costa Rica is known for its year-round warm water that is perfect for outdoor activities like white water rafting. If you're visiting Costa Rica, don't miss your chance to experience world-class rafting in a beautiful, natural environment. While rafting you're bound to see plenty of gorgeous foliage, interesting creatures, flowing waterfalls, and other natural wonders. Whether you're interested in a day trip or just a brief excursion, Costa Rica has many white water rafting opportunities to choose from. Here's a look at some of the best places to enjoy a white water rafting tour in Costa Rica.

White Water Rafting Tours in Manuel Antonio Costa Rica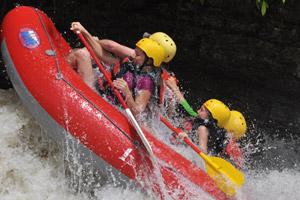 H2O Costa Rica offers daily departures to two white water rapid rivers near Quespos and Manuel Antonio. The infamous Naranjo which divides into El Chorro and the powerful Savegre River with its Class IV and V ratings are the ultimate places to enjoy white water rafting, along with the lower Naranjo River. While the Savengre is the larger of the two rivers, Naranjo offers more rapids.
One option for white river rafting in Manuel Antonio is the El Chorro Class IV Adventure. During this tour, you'll be guided through a narrow canyon surrounded by cliffs and rock walls. The Chorro section begins just 35 minutes from Manuel Antonio in the mountain village of Esquipulas.
Another white river rafting opportunity is the Savegre River Class II – III tour. This full day adventure consists of a trip down the Savegre River. During this excursion, you'll also encounter a short hike, a pleasant swim at a waterfall, and a stop for lunch which consists of vegetables, beans, rice, and your choice of chicken, fish, or plain omelet. Enjoy your meal next to the river.
Another tour option includes the Naranjo River Class III – IV. This white water rafting tour is great for both beginner and experienced rafters. Located just 30 minutes from Manuel Antonio in the mountains, rafters have the opportunity to explore the Naranjo River with runs from the town of Villanueva to the Llamaron Bridge. This 6 mile rafting tour includes incredible views including those of crocodiles that live in the river.
White Water Rafting Tours in Arenal La Fortuna Costa Rica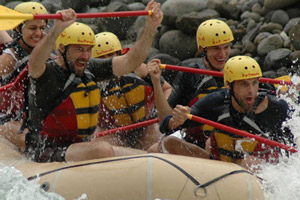 White water rafting tours are also available in the Arenal La Fortuna area of Costa Rica. The Sarapiqui Rafting Class III includes a plethora of wildlife like rainforest birds and howler monkeys. After getting picked up at your hotel, your journey will bring you to a scrumptious tropical breakfast, followed by rafting, swimming in the natural pools along the way, and a picnic lunch along the river.
Our final white water rafting tour is the Penas Blancas Rafting Tour Class II – III. This tour provides you with two options that allow you to enjoy a Safari Float with our professionally-trained guides and naturalists. Check out the wildlife surrounding you and take photos if you wish. During this excursion, you get the chance to peacefully glide down the river as your guides point out wildlife and explain interesting facts around the forests that surround you.
If you have yet to try white water rafting in Costa Rica, make a reservation today. It's an experience like no other. Be sure that you're prepared for the tour by bringing along a swimsuit, change of clothes, towel, sunscreen, and rubber soled shoes like strap on sandals or tennis shoes. For more information about these Costa Rica white water rafting tours, contact us today.