Costa Rica Manuel Antonio Tours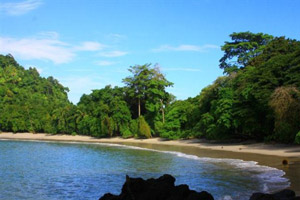 Situated on the Central Pacific coast of Costa Rica, Manuel Antonio National Park is a popular tourist attraction and a must-see destination. From its white sandy beaches to its evergreen forests, the beautiful region is home to more than 109 species of mammals and over 184 species of birds. The extensive park includes 12 small isles found just off the coast, many of which are frequently visited by dolphins and migrating whales. If you're interested in a unique activity that will let you experience the best of nature up close and personal, reserve your spot on a Costa Rica Manuel Antonio Tour.

Adventure Tours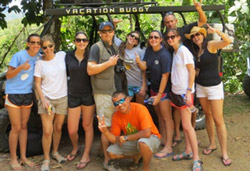 If you're in the mood for an adventure, Manuel Antonio Tours offers a variety of adventure tours to get your blood pumping. The Vacation Buggie Jungle Tour is a private excursion for you or your group of up to 15 guests. While in custom ATVs and Jeeps, you'll get the opportunity to explore some of Costa Rica's most remote locations. Other adventure tours include zip lining, Tarzan swings, horseback riding, hot spring visits, sky diving, white water rafting, and more.
Nature & Educational Tours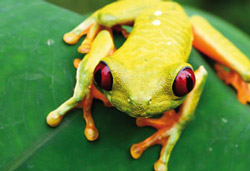 Want to know more about the nature in Costa Rica? The Manuel Antonio Tours includes an array of fun nature and educational tours. One such tour is the Jungle Night Tour at Palmas Pacifica. The Fincas Palmas Pacifica trails span more than 1,800 meters and are conveniently located next to one of the last primary forests in the area. Other fun nature and educational tours include a hot springs full day tour, a guided Manuel Antonio Park tour, a Villa Vanilla Spice tour, a Rainmaker guided tour, a Mangrove tour, a monkey sanctuary tour, a buggie jungle tour, and much more.
Leisurely Tours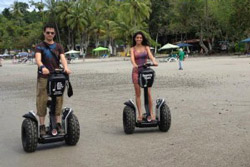 For a day of fun and relaxation, try one of several leisurely tours in Manuel Antonio. The Seaway Jungle Island Tour gives you the chance to travel via Segway. The tour begins at Nahomi Park and leads to the Quepos waterfront. You'll then be brought to the water ferry which will take you to the beautiful Jungle Island. During the tour, you'll have the chance to stop, rest, and take photographs. At the end of the tour, enjoy a delicious meal. Other leisurely tours include a parasailing tour, tennis tour, spa massage tour, and a hot springs full day tour.
Marine Life Tours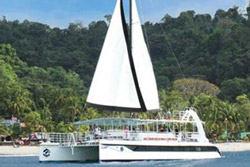 If you prefer to spend your day on the water, consider a marine life tour. The Catamaran Sailing and Snorkeling tour is an aquatic adventure you won't want to miss. The cruise will bring you out into the open water where you'll get to see spotted dolphins, manta rays, sea turtles, and migrating humpback whales. There are also magnificent views at every turn. Along the way, you'll also stop at a cove where you have the option to go snorkeling. Other incredible marine tours include fishing adventures, diving tours, parasailing on the beach, Jet Ski tours, SUP padding boarding tours, and much more.
Manuel Antonio Park is open daily from 7 AM to 4 PM with the exception of Mondays. All guided tours include entrance fees, bilingual certified guides, round trip transportation from Manuel Antonio and Quepos hotels, and 2.5 to 3 hours of guided tour time. At the end of your tour, you'll also have the option to spend the rest of the day at the park or head back to your hotel. For more information about Manuel Antonio Tours in Costa Rica or to learn how you can book a tour for you or your group, contact us today.