Costa Rica Crocodile Tours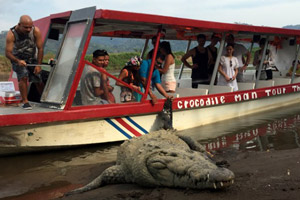 Discover huge crocodiles, exotic birds, and tons of other amazing wildlife during a Costa Rica Crocodile Tour. Just 20 minutes north of Jaco and one hour west of San Jose you'll find a choice of several incredible adventure tours. The thing that makes these crocodile tours the best in the region is that they take place on the Rio Grande of Tarcoles, a river home to more than 2,000 crocodiles. These are not your ordinary reptiles either. Some of the biggest measure more than 15 feet long and weigh up to 1,500 pounds.
While crocodiles are the main attraction, you'll see much more during a Costa Rica Crocodile Tour. Bird watching adventures allow you to discover a diverse range of avian life, including many of the colorful birds that live in this tropical region. In fact, the mangroves and Carara National Park are home to more than 400 species of birds, as well as other amazing creatures like iguanas, basilisks, and mammals like white-headed capuchins and howler monkeys. During a Bird Watching Tour, you'll be guided through the Guacalilo Mangrove which is one of the country's best areas for bird watching and one of Costa Rica's most fragile ecosystems.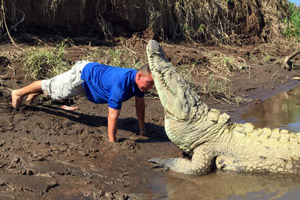 A crocodile tour may seem a little daring, but you'll be safe and sound in a large, modern boat complete with comfortable seats and a roof to shield you from the sun's harsh rays. Of course, all guests will be asked to adhere to certain guidelines to ensure their safety during the tour. The Costa Rica Crocodile Tour business is up-to-date with all legal documents and has a current certificate from the Costa Rican Tourist Board. Costa Rica Crocodile Tours has more than 20 years of experience providing customers of all ages with fun, safe adventures.
In addition to the original crocodile tours, guests have several other fun options to choose from. The Carara National Park tour offers the beauty of the forest and a bird retreat where more than 360 species including the awe-inspiring scarlet macaw can be found. If you prefer to experience the wonders of the rainforest, try a horse riding tour which is set on 80 acres of private property. Another option will bring you directly on the water. The artisanal fishing tour is where you'll learn about sustainable management of coastal and marine resources, as well as various marine species and the arts of small scale fishing.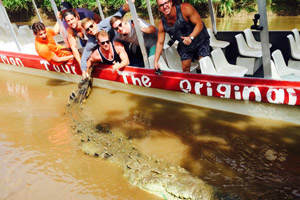 If you really want an adventure during your time in Costa Rica, consider an ATV tour. The tour begins at sea level and transitions up to 3,000 feet high. During the tour, you'll experience some of the most incredible coastal views of the peninsula and Jaco. The Manuel Antonio National Park tour offers a one-day package which includes transportation and a naturalist guide. Another option is sports fishing. Costa Rica offers one of the best sports fishing opportunities in Latin America. Other Costa Rica tour options include a tour of Tortuga Island and Tranopy, a combination of tram and zip lining.
Whether you're visiting Costa Rica for business, pleasure, or pure education, you won't want to miss an opportunity to discover all of the natural beauties the country has to offer. Costa Rica Crocodile Tours allow you to get up close and personal with some of nature's most incredible creatures, from oversized crocs to birds of every color. If you'll be arriving with a group, call ahead to see what money-saving group packages are available to you. For more information about Costa Rica Crocodile Tours or any of the other adventure tour options, contact us today.