Costa Rica Tortuga Island Tours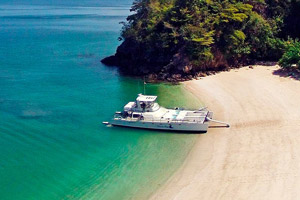 The beautiful and tranquil Tortuga Island can be found just off the southern tip of Nicoya Peninsula. A popular vacation destination among tourists, this peaceful island offers pristine beaches, beautiful wildlife reserves, and an abundance of outdoor activities to enjoy such as swimming, sunbathing, zip lining, hiking, canopy tours, and more. If you're an adventurer or simply want to experience the spectacular nature of Costa Rica, consider partaking in a Tortuga Island Tour. From riding on a luxury yacht to dining on a gourmet feast, a Tortuga Island Tour offers vacationers an experience like no other.
A Tortuga Island Tour includes a wonderful day at the white sand beach of Tortuga Island, followed by a ride on the world-class yacht catamaran Manta Raya. Guests will also enjoy a gourmet dining experience that has been featured in Gourmet Magazine. In the afternoon, the cruise tour will sail past several islands in the Gulf of Nicoya before taking a different route back to the port. Both foreign and local travelers alike can enjoy seeing and learning about Costa Rica's vast history while discovering the uninhabited islands and surrounding wildlife which are only accessible by water.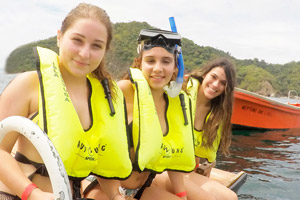 A Tortuga Island Tour in Costa Rica includes a wide range of amenities for you to enjoy including comfortable bus transportation with air conditioning, bilingual guides, a hot Costa Rican breakfast, and departure from a private dock. The cruise on the Gulf of Nicoya to Tortuga Island is just 90 minutes in which you can enjoy lounging on the yacht and eating tropical fruits. At no extra cost you can also enjoy a snorkeling excursion and banana boat ride. For an elegant dining experience, guests can enjoy a four course gourmet lunched served under the shade of umbrellas.
Your Tortuga Island Tour will also include other great perks, including live music from the Marimba Trio, a musical instrument unique to Costa Rica. You'll have a guaranteed five hours on Tortuga Island in addition to unlimited fruit juice, soft drinks, hammocks, beach chairs, slack line, and volley ball court. On board the yacht and on Tortuga Island you can find tropical drinks at reasonable prices. After a day on the island, you'll get the chance to embark on an afternoon cruise around seven islands in the Gulf of Nicoya. After your tour, you can go on social media to find snap shots from your day trip available for download.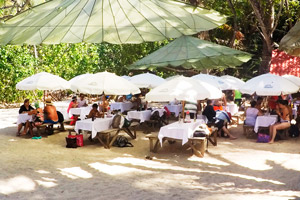 When on a Tortuga Island Tour, you'll want to ensure that you're prepared by bringing along a few key items. For an enjoyable trip, you'll want to have an extra set of casual clothes, as well as a bathing suit or pair of shorts for lounging and swimming. To help keep cool and protected from the sun, bring along sunblock, a hat, and some sunglasses. As it can get slightly cool while on the yacht, have a lightweight long sleeve shirt available for layering. You may also want to bring rubber sandals, boat shoes, or tennis shoes, as well as towels and extra cash for alcoholic beverages and souvenirs.
Tortuga Island, also known as Isla Tortuga, is one of Nicoya Peninsula's main attractions with picturesque beaches and crystal blue waters. The island gained its named from the volcanic rock formations that resemble turtles. Due to its long history, there's much to learn and discover about Tortuga Island, including its unique plant and wildlife. To learn more about the must-experience Tortuga Island Tour in Costa Rica or how you can reserve a spot on the tour for you or your group, contact us today.