Costa Rica ATV Tours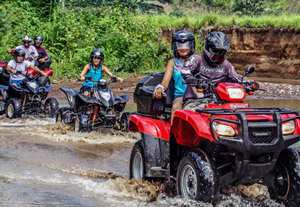 ATV tours are a fun and adventurous way to explore new areas and take in breathtaking scenic views. If you're in Costa Rica for a bachelor party, vacation, or any type of celebration, schedule an ATV tour with a group of your closest friends. For drivers 16 and older, riding ATVs is an exhilarating experience that allows you to see the beautiful country's amazing terrain. From the forests and jungles to the beaches and mountains, traveling via a high-powered all-terrain vehicle is the ultimate way to tour Costa Rica. If you're new to the country, here's a look at some of the best places to ride via ATV.

Manuel Antonio ATV Adventure
Located just 15 minutes north of the Manuel Antonio National Park, the Manuel Antonio ATV Adventure offers an unforgettable ATV experience that leads you through miles of tropical terrain. The tour is instructed by professional and bilingual guides to ensure your safety and to help you remain on the right path when weaving through the rainforest. During the tour you'll have the chance to stop and admire the awe-inspiring waterfall and even take a dip in the cool water. Before cruising back, take the time to enjoy a yummy Tico-style meal. From start to finish, the ATV tour lasts about 4 hours.
Midworld ATV Tour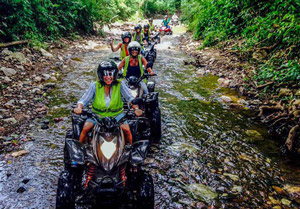 Midworld ATV Tour offers you a unique ATV experience just 20 minutes away from Quepos. On the day of your tour, your guides will pick you up directly from your hotel and explain how the day will go. Once you arrive at Manuel Antonio National Park, you'll participate in a safety lesson. You'll then have the choice to ride on a Polaris Trailblazer if you're a single rider or a Yamaha Grizzly if you're riding double. You'll then get the chance to travel through the rainforest, swim in a river beside a waterfall, and enjoy a delicious meal. In total, the tour lasts four hours.
Xtreme Adventure Tour
The Xtreme Adventure Tour takes you and your group through the amazing Guanacaste region consisting of forests, mountainsides, and beaches. Choose from one of several packages, such as a two-hour ATV tour along the sandy beach or a four-hour ATV tour that leads along the beach and jungle. You can also choose an ATV tour that combines riding with the excitement of zip-lining. No matter which package you chose, you're sure to have a memorable experience.
ATV Adventure Tours Costa Rica
ATV Adventure Tours Costa Rica is located near Los Suenos on popular Jaco Beach. If you're looking to see the amazing nature in Costa Rica, enjoy an ATV ride along rainforest trails, remote villages, and gorgeous waterfalls. ATV Adventure Tours offers auto transmission ATVs that allow you to go off-road safely, whether you're a beginner that has never been on an ATV or an experienced rider. Choose between a two-hour ATV ride with the Tour de la Gloria, a three-hour ATV ride with the Tour de la Paz, or a four-hour ATV ride with the de 7 Pueblos. There is also a full day Tour del Ray option.
Adventure Motorsports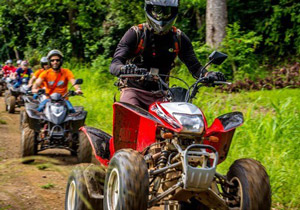 Our final choice for the best ATV tours in Costa Rica is provided by Adventure Motorsports. Located on the island of Uvita, Adventure Motorsports offers a guided ATV ride that allows you to explore secret water falls, historic coffee plantations, small villages, and limitless wildlife at every turn. In addition to simply riding through these areas, Adventure Motorsports encourages you to interact with your surroundings. Feel free to speak with the locals or take a dive into the waterfall and cool off.