Costa Rica Nightlife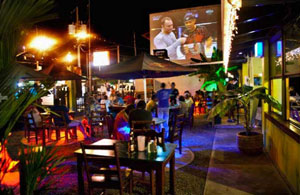 At Bachelor Party Bay we have you covered down to the very last detail. Decisions are hard to make, and with so many things to do in a new exciting place, you might end up choosing the wrong ones. Don't end up at a bar where the bartender doesn't speak any English, and you don't have a translator (iPhones don't count). Take our advice, we are professionals with over 10 years of experience, we got it covered. Whether it's your first time in Costa Rica or you're a returning veteran we have planned out the ultimate Bachelor Party experience for you. Follow our Jaco nightlife blueprint and spend your night experiencing the world renowned Beatle Bar, or the uber popular Monkey Bar. Costa Rica has everything and anything that you could want in a vacation. Costa Rica is the ultimate Bachelor Party experience, it's Las Vegas with an exotic, erotic twist. Try your luck with some gambling, show your moves on the dance floor, pop bottles & sip champagne in the VIP room, hit up a late night beach party, bar hop on the strip. We take down the velvet ropes for you. Jaco has Vegas' beat, and it is our goal to make believers out of you.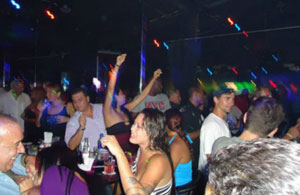 Your time in Costa Rica is important, don't waste your time figuring out where to go or where not to go. The Bachelor Party Bay Elite Access experience will leave your head free of worry and full of kick ass fun. We offer the basic VIP party options, like penthouse beachside parties, cigar smoking rooms, scotch tasting, gambling, and the experience of a lifetime. But in Costa Rica, your not just getting the basic experience. We're going above and beyond, out there into the exotic island night life where living is easy and the partying is hard. Trust our professional party planners and your time and money will be spent with no regrets. We are by your side the entire trip, at your service 24/7. Bachelor Party Bay is your "Best Man" while you're with us, leave the details to us. They say the Devil went down to Georgia, but they're wrong... he's in Costa Rica. Let your wild side take over, and have the time of your life. No regrets on this island! Leave your worries, and your cares back in the U.S.A because Bachelor Party Bay is not just a vacation, it's a lifestyle, it's an experience you share with people like yourself who are down to have one good ass f'n time. So leave the drama for your mama, and get ready for the Bachelor Party Bay Elite Access Experience.
Costa Rica Nightlife Guide
On arrival, Bachelor Party Bay will pick you up from the airport or your hotel in your choice of, limousine, party bus, or private car. (Hollywood right here)
Escort you to your choice of your own private beach front mansion, villa in the rainforest, coastal penthouse, top of the line resort, or the glorious Jaco Beach
Get you experiencing the island with our inclusive daily tours, chosen to fit all of your wildest dreams
Set you up with your own private party in your villa, or on our Bachelor Party Bay private boats where you can party on or off land
Escort you all around the island to all the most EXCLUSIVE party hot spots in Jaco, Our guests are always VIP, nothing less only the best
Chill out, get to know and party with the most classy, out going, attractive people on the island! There ain't no party like an island party!
Bring you back to your villa safe and in style for a kick ass after party! Keep it goin' all night! Do it big & party like a Rock-Star!
Jaco Beach Bars & Clubs
Monkey Bar

You can't leave Jaco Beach without visiting the Monkey Bar with its great music and awesome dance floor. Meet awesome people here; you cannot miss out on this bar! The infamous Monkey Bar is the most popular bar in Jaco along with the Beatle Bar.

Los Amigos Jaco

For the best food and a great bar Los Amigos is a can't miss. Flat Screens everywhere with hot music and drink specials every night. This is a classy bar you can't miss if you like Hip Hop and Latin Music.

Beatle Bar

If you don't know this one already you will when you leave Jaco Beach.

Clarita's Bar

If you're looking for relaxation without the sweaty dance floor and loud music this is the bar for you. Awesome beachside location. I recommend it for those looking for conversation and friendly chatter. Good wind down club.

Plankton Club

Right smack dab in the center of town. Highly recommended for the dance happy type. This is the ultimate club for hot music and dancing. Great views from the second floor of the club onto the main strip.

Le Loft Club

Feels like a Miami environment. Reservations required. Definitely a unique club on the strip. Very high profile – ask us about this one if this is your style.
Costa Rica Nightlife Package Deals