Costa Rica Zip Line Tours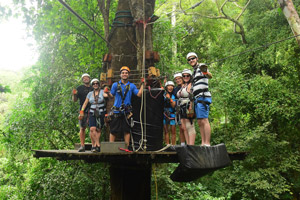 Zip lining is the ultimate outdoor adventure. Zip through the trees and enjoy nature from way up high above the trees. Costa Rica is an excellent place to enjoy zip lining as the country boasts spectacular views in every direction you turn. If you want a closer look at Herradura Bay and Island, as well as the Nicoya Gulf, try a Costa Rica zip line tour. While zip lining, you'll see many beautiful creatures such as chestnut mandible toucans, scarlet macaws, and whiteface monkeys living and playing in their natural environment.

This unique area of Costa Rica features 80 acres of land. More than 50 percent of the area is protected by a government institution known as NONAFIFO. Your zip lining adventure begins with a 15-minute ride on a specially-designed tractor. The tractor will bring you to the top of the mountain where bilingual guides will discuss all safety procedures, step by step. These safety rules must be followed to ensure that you remain injury free while zip lining. You'll then have the opportunity to descend from the top to the bottom of the mountain via a series of zip lines.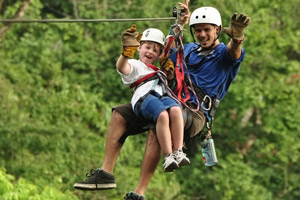 The zip line series spans a total cable distance of 3.5 kilometers with the largest cable in the series spanning 2,400 feet long. In all, the zip line series includes 14 platforms and 12 cables. You can rest assured that you will be safe while you zip line as the course is routinely inspected to meet all safety guidelines. All gear also meets safety guidelines and feature backup safety mechanisms so that you can feel safe and confident as you're zipping across the steel cables that span across platforms. You can also take comfort in knowing thousands have zipped on those cables before you.
When you schedule a zip lining tour, your reservation will include a variety of perks. First, your excursion will include the 15 minute tractor ride to the top of the mountain, followed by the zip lining series containing 12 cables and 14 platforms. Your zip lining package will also include your bilingual guides who will explain all safety procedures and address any of your questions or concerns. The price of your zip lining tour will also include insurance and safety equipment. During your excursion, you'll be offered complimentary fruit and water to ensure you stay hydrated. Finally, your trip comes with spectacular views of the Pacific Ocean.
The weather in Costa Rica is usually warm but the elements can be unpredictable, especially during the rainy seasons. To ensure that you remain comfortable throughout your zip lining tour, we recommend certain attire and accessories. We suggest that you wear comfortable clothes that are appropriate for the weather on the day of your tour. If possible, dress in layers that you can easily take off if you get too hot. Tennis shoes are ideal for staying put on your feet and walking in between platforms. Also wear and bring sunscreen to protect your skin and sunglasses for eye protection.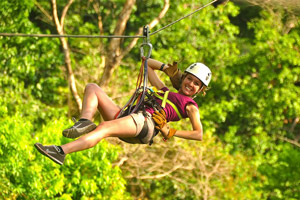 The Costa Rica zip line tours typically span about 2 hours in total. Departure times include 8 AM, 9 AM, 10 AM, 11 AM, 1 PM, 2 PM, and 3 PM. Zip lining is great fun for older children and adults of all ages. If you've never been zip lining before, don't worry, it's easy to learn. You'll be safely attached to a harness at all times and will simply need to hold on tight as your glided down the steel cables to your destination platform. For more information about Costa Rica zip line tours, contact us today.