Jaco Nightclubs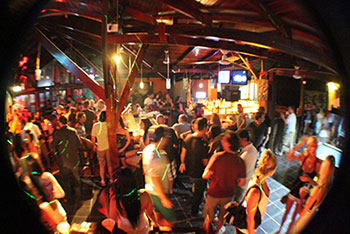 The most popular clubs in Jaco Beach Costa Rica are the Monkey Bar, Beatle Bar, Los Amigos Bar, Le Loft, Plankton, and Malecon Bar! The night life in Jaco Beach is endless with possibilities; if you love hip hop and high energy than the Le Loft is for you! If you and your crew want to dance the night away drunk on tequila then we suggest heading out to the Monkey Bar for a fantastic time! Los Amigos has a wind down feel so when you are feeling like having a low key time with some nice chatter with some locals and maybe a bit of billiards we suggest heading here!
Drinking beachside with live music and great food is part of the Malecon experience! When doing a pub crawl with your friends you can't forget about Plankton which is the premier clubbing destination in Jaco Beach. Plankton is the first clubbing bar to open in Jaco Beach. Enjoy VIP access at Monkey bar Planketon, or Le Loft through Bachelor Party Bay. Last but not least head to Beatle Bar... well let's just say what happens at the Beatle Bar stays at the Beatle Bar! Call Bachelor party bay at 1-877-322-1600 or contact us
Bachelor Party Bay's newest hot spot to send clients is Hotel Cocal where the migration within Jaco has occurred. To find the most beautiful lovely ladies head to Hotel Cocal where you'll find slots, poker, live music, great food, and wonderful women! A bachelor party in Jaco Beach is not complete without partying in Cocal's pool area where the wildest parties rise to the top.
Jaco Nightlife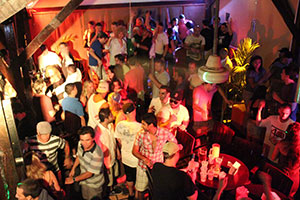 The city of Jaco is a bustling beach bum town on Costa Rica's Pacific coast where many that come to visit end up staying much longer than they intended. The surfer culture, beachy atmosphere and rowdy nightlife make Jaco the party capital of the country. Jaco is only 75 short minutes from San Jose, but our drivers or pilots will be more than happy to give you a lift from anywhere in Costa Rica to party central in Jaco. Get ready to see the Sin City of Central America Bachelor Party Bay style! While the sun is up it's all about hot beaches and cold drinks. Whether you're out fishing with our captain Dan Ross or on an ATV or taking a zip line canopy tour Jaco's fun never stops. At night Jaco transforms into a thriving jungle of entertainment. But no matter what time it is, you're always in the presence of beautiful women wearing next to nothing... Or even better... Nothing! Jaco is a city where your wildest party fantasies come true and Bachelor Party Bay puts you in the front seat to the show.
Turn heads on your arrival by taking a limo straight to the beach. While the sun is shining and the babes are flocking to the beach, make your initial entrance at Backyard Bar. This is an open-air beach bar with live music and is famous for its Happy Hour. All kinds of fun-loving party animals congregate at this spot during the daytime and make rounds from the bar to the beach and back. Pull up a chair and check out all the beautiful scenery. Bouncing beach bodies are everywhere you turn. We hope you brought some extra sunscreen because you don't want to blow it when the blonde asks you to put some on her back!
While you're hanging at the beach, grab a surf board and hang 10 on Jaco's world-renowned waves. Or if you're lucky enough to be in Jaco during the beauty contest make sure you grab a chair front and center. This city attracts surfers...both male and female from around the globe. If you're not familiar with surfer chicks, in a few words they are: "totally rad, man!" They fit right in as Jaco is a beacon for most care-free, beautiful, and friendly girls in the world.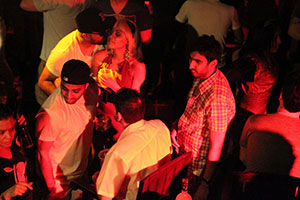 As the drinks keep flowing and you watch the sunset over the Pacific, Jaco starts to show its wild side. Make your way to Monkey Bar to follow the excitement. This is an energetic bar with lots of dancing and drinking and a classy VIP section. The music fluctuates between hip-hop and reggeaton and the women here like to shake what they're mamas gave them. It's the perfect place to mingle with girls who are looking to have a good time.
Beatle Bar is another bar that we highly recommend checking out. This bar has more of a classic rock vibe and is a well-known party destination to locals and foreign travelers alike. You will meet all kinds of women here and almost all of them are just as anxious to meet you!
If you have already checked out Monkey Bar, Los Amigos is a good alternative with the added element of excellent food and top-shelf booze. Amigos is another sure shot to meet some nice women and enjoy some good drinks. One other option is a bar called Plankton, another fun dance bar with great drink specials that has a Miami vibe.
Regroup at Bachelor Party Bay's home base of Hotel Cocal and Vista Mar where you can play the slots and Texas Hold'em until the sun goes down. Cocal is always good for live music and awesome food and great conversation at the Tiki Bar. Enjoy a dip in the pool until the sun sinks down when you get your party clothes on and ready to rock!
It's time to round up the pretty women you've met so far, grab one last round of shots with the group, and head out to the limo to ship out to the next party spot. Kick your party up a notch by stopping into one of Jaco's amazing clubs. Le Loft offers an amazing VIP service where you and your friends can celebrate like kings. Electronic music and trendy decor make this club one of our favorite spots in Jaco. You and your friends will be at the center of attention as you make your VIP entrance. Inside the club ladies will be lined up to meet you. Remember sometimes its best not to remember your bachelor party!
Jaco Nightlife Package Deals