Jaco Beach Guys Night Out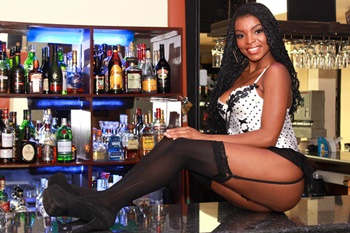 Sexual tourism is no longer seen as the sleazy underworld of Costa Rica and in recent years the rise in sexual tourism in this little country is being attributed to increases in number of women traveling in search of a hedonistic vacation.
Like sportfishing, sexual tourism is just another part of many tropical economies. Like many tropical destinations in the western hemisphere a vast majority sexual tourists arrive faithfully in Costa Rica from the US and Canada every week of the year.
In Costa Rica prostitution is legal. Pimping is NOT, but it's perfectly legal for a woman or man to earn money peddling their sexual services.
Costa Rica is by far Central America's top choice for a tropical vacation. This small country has a fully developed tourism industry that continues to improve year after year and because prostitution is legal in Costa Rica, Latin women and men from the surrounding tropical countries arrive in droves every year to offer their sexual services and take advantage of the 2,000,000+ travelers arriving on our sunny shores.
Sexual tourism is a money generator and nowhere is it more prevalent than the sizzling little beach town of Jaco located only about one hour from the main international airport in San Jose on the central Pacific coast. Jaco Beach the primary hub for tourism in general as well as the #1 hotspot for sexual tourism in Costa Rica.
The Jaco Beach strip, like many tourist beach towns is jam-packed with color, music, lights, bars, clubs, people, vendors, casinos, and adies and gentlemen of the night, with every hedonist flavor there is available, ready and waiting. Hitting the strip is exciting, entertaining, fun, a little crazy, and well in a word addictive!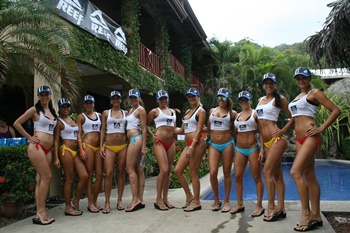 Jaco Beach caters to the general tourist by day and the sexual tourist by night. Jaco has wild singles clubs, quaint pubs/cantinas, discos with all the dazzling glitz, and of course some karaoke bars – Ticos (what Costa Ricans call themselves) love karaoke. All of these places are the perfect place to meet some Ticas (Costa Rican women) looking for a good time. Jaco Beach really is heaven on earth for the person looking for some sexual adventures!
Apart from the many solo traveling gringos looking for some fun-in- the-sun, Jaco Beach is a main international destination for bachelor parties. Bachelor group travel is a large and growing segment of the industry. This is where a groups of guys come down to Costa Rica, usually through one of the bachelor party agencies whose primary business is in providing the group with everything in some sort of packaged deal such as arranging a vacation rental, pool party, dining transportation, adventure tours such as sport fishing, etc. Hostesses and 'pool girls' may or may not be part of the services provided.
Latin American countries deal in bartering or more accurately haggling over price. Further, Costa Ricans see gringos (white people in general but more applied to people from USA and Canada) as money machines. This view is also indicative of the ladies of the night as well but also true with regular girls who aren't involved in sexual tourism per say, gringos are a money train. In a practical sense this holds up, Gringos are here for a good time, they drop bundles of money, why not go hang out with them get free drinks free food, party hard all night.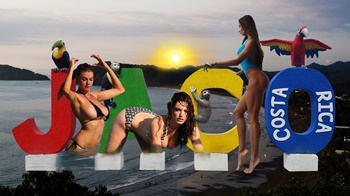 Costa Rica is a country all about bartering, negotiation is just part of the culture. This holds true in sex tourism industry as well. Prices for prostitutes ranged from between $100 to $150 but buyer-beware is a good maxim not to forget in Costa Rica.
Some women of the night will stay with you all night and others will be checking their watch and after 20 minutes. Some of the women in the sex industry are horrible people to deal with and others are just the opposite.
Hitting the Jaco Beach Strip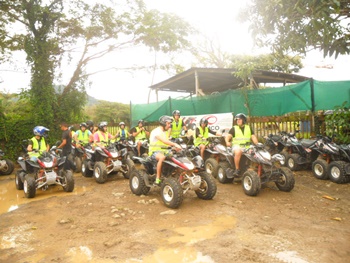 Jaco Beach's strip is loaded with fun; it's a down and out party with many nightclubs open until the wee hours of the morning. In Jaco Beach there are a lot of bar restaurants and gentleman's clubs and strip clubs to choose from but the Hotel Cocal from Thursday through Saturday Night is the place to go.
Many clubs only shut down when the place clears out; allowing you to extend your party night on the strip till the sun comes up.
If you are looking for a little gambling fun, the Cocal and Croc's casino are the places to be. Bar restaurants are everywhere, one the best is right in the center of the strip called Los Amigos, good food, people, and plenty of plasma screens with all the best sports channels.
Other good choices for fun on the Jaco strip is The Mancave, the Orange and The Loft, all have excellent atmospheres and lots friendly ladies frequent these places.
Word of Warning
Costa Rica is the safest Central American country by far, but like anywhere south of the border, mind your manners. Don't get into a scuffle with a local lady or man, that's a no win situation. Watch your money and other processions either while out partying or back at your vacation rental home or hotel room, especially with company.
One more tid-bit, whether you are coming alone or traveling in a bachelor party group, get professional advice from an experienced party expert, don't wing it. Booking through an experienced booking agent will ensure, you have the right lodgings, whether a vacation party villa or home, or a hotel. An agency will ensure you save money, usually a significant amount of money. By booking through a qualified agency, you can/will package transportation, lodgings, adventure tours, sportfishing and receive discounted offering only an agency can get, and you will get know-how as well as peace of mind.