MEETING WOMEN IN COSTA RICA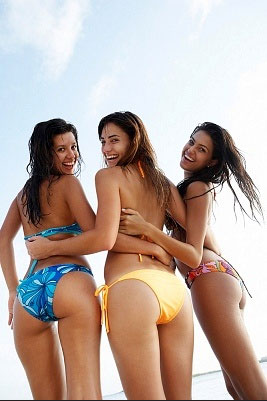 When you're out with your friends and are looking to meet some women to party with, it is often difficult to get girls' attention if you're not absurdly handsome or have a couple million dollars in your bank account. When you travel to Costa Rica, you can leave these requirements in the U.S. because you will be getting more than enough female attention from the minute you set foot in the country. Meeting women in Costa Rica is fun, interesting, and best of all, easy unlike the women in America who seem to have a knack for making guys feel inadequate and lame.
You can meet girls just about anywhere in Costa Rica. If you're staying in one of the coastal cities like Jaco, just about anywhere in town is fair game. At the beach you will find women all over the place soaking up the sun rays and you can easily start a conversation with them. Not all of the women in Costa Rica speak English, but you will be surprised how many are capable of carrying on a friendly conversation with you.
Venues like bars and clubs make a great atmosphere for meeting girls as well. Latin girls love music and dancing so you will find plenty of women out enjoying the nightlife. As long as you are friendly and respectful you will have no trouble meeting girls if you decide to go out on the town. The beach and the bar are probably your top options for meeting girls in Costa Rica, but you can meet girls anywhere. Even the supermarkets and shopping plazas are loaded with good-looking girls.
It is not a secret that having cute girls around can make just about any experience more enjoyable, so depending on what you're vacationing plans are in Costa Rica, you will be pleasantly surprised at how willing the women are to accompany you in your adventures. The Latin women in Costa Rica for the most part don't normally have the opportunity to do fun things, so if you keep that in mind and treat them with respect, you will surely end up having an enjoyable time. Whether you want a girlfriend for the night, or for the duration of your trip, you can always find girls to satisfy your needs.
Are you planning a day at the beach? It is always more fun when you have a girl to massage your back while you soak up the sun. And of course, if you bring a girl to the beach you can guarantee yourself a closeup, long-lasting look at her beach bod. Play your cards right and you will get more than just a look.
If you're the romantic type, take a girl out to dinner to one of Costa Rica's great restaurants. If you need some good restaurant ideas, contact Bachelor Party Bay and our staff will gladly steer you in the right direction. Women in Costa Rica love a gentleman so if you prove to her that you are a nice, respectful guy, she will have a crush on you until you leave. If you want to continue hanging out with the girl, you will probably have no problem hooking back up with her whenever you please, or if you would like to move on, women in Costa Rica are surprisingly good at gauging how serious you want your relationship to be.
Now, for the party-people, you're probably thinking: "Relationships and romance? What the heck?" But you will be excited to know that the girls in Costa Rica are just as into partying as you are and can probably party you under the table! That is what makes Costa Rica such a popular Bachelor Party destination. Instead of dropping $5-10K in the US to be entertained by dirty strippers with zero personality, you can recruit as many of the attractive young women as you would like to make your party unforgettable. Let's just face it, a party sucks without hot girls and if you're not a famous celebrity millionaire, you won't even have a fraction of the success with the ladies in the US as you will in Costa Rica.